Got questions about sponsoring or housing Ukrainian Refugees?
Sanctuary Foundation the national organisation headed up by Dr Krish Kandiah are hosting an online information session titled "How to welcome Ukrainian Refugees"
Wednesday 16 March 7.30pm-9pm for anyone who is interested.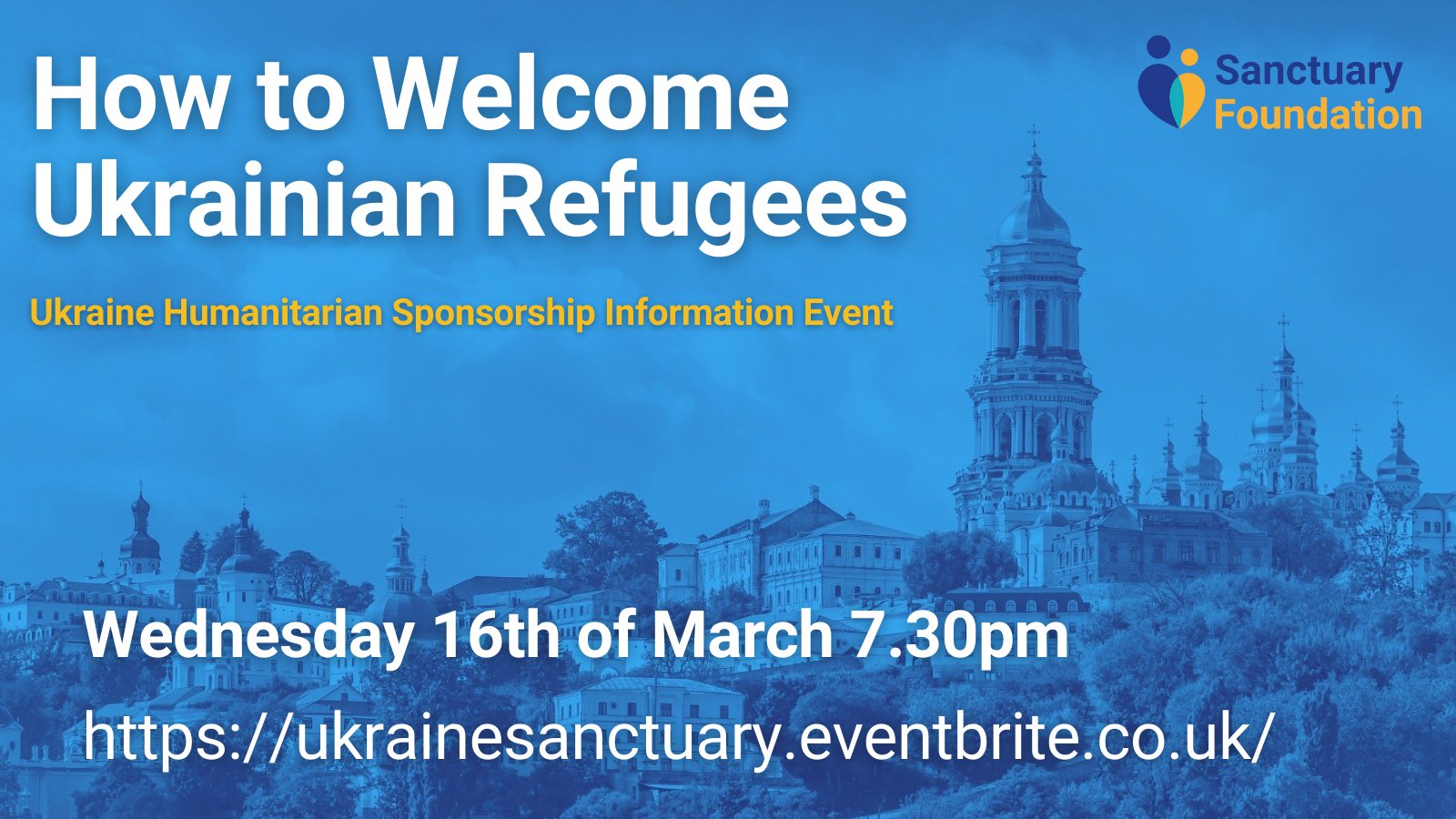 More details can be found here…
https://sanctuaryfoundation.org.uk/events
A Continuing Prayer for Ukraine
God of all,
With alarm and concern we bring before you
the military intervention in Ukraine.
In a world you made for peace and flourishing,
we lament the use of armed force.
We mourn every casualty of this conflict,
every precious life extinguished by war.
We pray comfort for those who grieve
and those who are fearful.
Hear our longing that leaders and nations
will honour the worth of all people
by having the courage
to resolve conflict through dialogue.
May all our human failings be transformed
by your wonderful grace and goodness
We ask this in the name of Christ,
the author of peace and sustainer of Creation.
Amen.
Giving
We have all seen and heard the distressing pictures and news from Ukraine. The local population is suffering from the Russian invasion in many different ways including the separation of families and the shelling of residential areas. Many people are fleeing abroad and there is a great need to provide food, water, medicines and shelter for these refugees.
The leadership team of Leigh Road Baptist Church has considered what our response should be as a church and has decided to send £5,000 to the European Baptist Federation (EBF). The EBF is working with partners in Ukraine, Poland and other surrounding nations who are best placed to know what practical help and assistance is needed by those most affected.
We are aware that many of you would like to help in some way and so we would invite the church family together to try and match the £5,000 that the church is already sending to the EBF to add to the overall donation. You can do this at the LRBC on-site gatherings by putting cash or a cheque in the green giving envelopes provided, marking them for Ukraine, which will be available over the next few weeks. Alternatively, you can transfer funds by bank transfer, please contact the church office for these details.
If you are a UK taxpayer then please provide the church treasurer with your name, address and the amount you've donated to finance@lrbc.org.uk so that we can recover the tax via Gift Aid which will increase the value of your donation.
Thank you!